Business Brokerage Blog
Business Broker Training and Industry Updates
Business Broker Start Up Coaching
For students completing either our in class or online training program, we offer Business Brokerage Start-Up Coaching. Our business brokerage start-up coaching is designed to help our former students start and a build successful business brokerage firm.
Business Broker Marketing Resources
(Websites, presentations, postcards, internet marketing, brochures, newsletters, and more…)
Business Intermediary Directory
"Helping business sellers and buyers connect with professionals in the business transfer industry"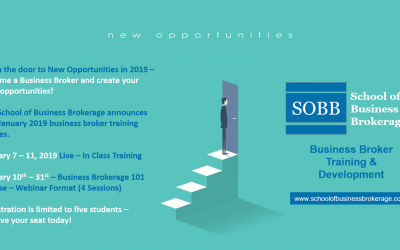 2019 is quickly approaching!  If you have considered becoming a business broker in the past but for whatever reason decided to wait – WAIT NO LONGER.  Make 2019 the year that you decide to not only open the door to new opportunities but become a business broker and...
read more